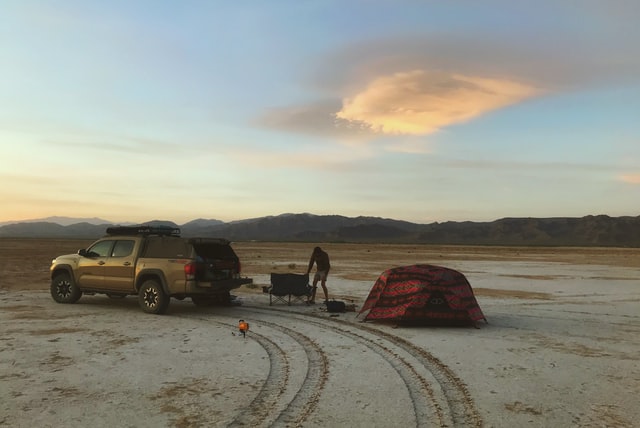 How to Get Setup for Truck Camping
If you love the outdoors and own a truck, consider utilizing your truck for truck camping. Truck camping allows you to reach more remote locations than an RV or a car with a trailer. Our guide will help you get started on your truck camping adventure. 
Plan Your Route
Selecting a destination and planning your route is an essential component of any trip, whether you are camping or not. Consider if you want to check out some local campsites or plan an extended trip to a more remote location. 
Prepare Your Vehicle
Your truck's inspection should be up-to-date before embarking on any trips. Make sure items such as your headlights and turn signals are in good working order. Be sure to pack some of the things from the list below in the event of an emergency:
Spare tire
Truck jack
Flares
Jumper cables 
Extra fuel that is properly stored and secured 
Fire extinguisher 
Recovery and ratchet straps 
Picking the Right Gear
Truck camping offers several choices when it comes to sleeping arrangements. The easiest and most affordable option is simply sleeping in the cab of your truck. We've summarized some other options below for you:
Popup truck bed tents: This is an affordable option if sleeping in your vehicle does not appeal to you. These tents just pop up and sit in the bed of your truck. 
Truck canopy: This option involves a truck topper that has a hard shell roof and walls. 
Slide-in truck campers: This option will be mounted and secured to the bed of your truck and is typically made from aluminum or wood for the longevity of use. 
Rooftop tent: This option requires the installation of a roof rack. 
There are many options when it comes to outfitting your vehicle for truck camping. Installing a cargo stabilizer bar like our HitchMate Cargo Stabilizer Bar will keep your gear securely stored during your travels. You can also install a hitch-mounted cargo carrier to create more storage space for your truck camping trip. 
Camping Gear
 Once your truck is outfitted, you will need to pack general camping supplies for your trip. Make sure you take along clothes and shoes for inclement weather. Include a few days' worth of extra food and water in case you get stranded on your trip. Other useful items to bring include sunscreen, bug spray, toiletries, and any medications you take.