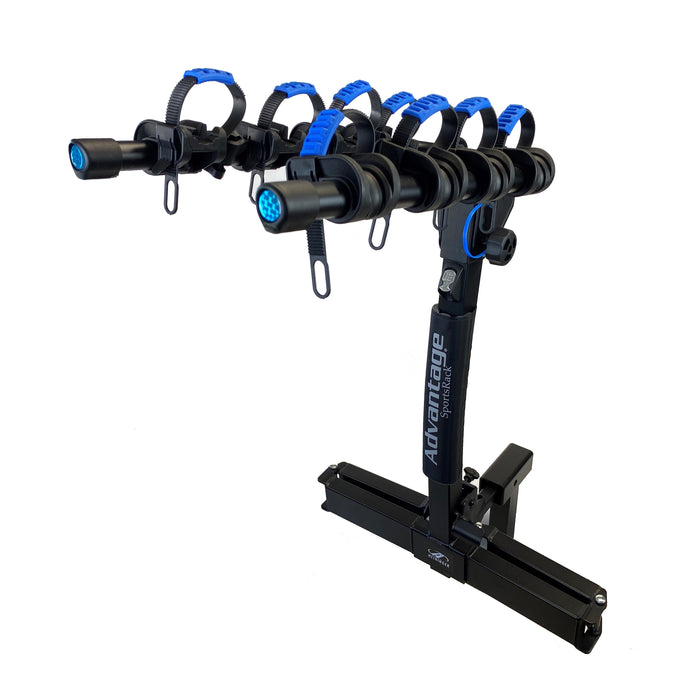 Advantage glideAWAY Elite Four Bike Rack Carrier
Save

50

%
Save

50

%
Original price
$299.95
-
Original price
$299.95
FREE GROUND SHIPPING TO All 48 CONTINENTAL STATES (Alaska & Hawaii require additional fees)
Introducing the Advantage GlideAway Elite Four Bike Rack Carrier Model #2070
Elevate your biking adventures to new heights with the Advantage GlideAway Elite Four-Bike Carrier. Engineered to provide unparalleled convenience and security, this bike carrier is the ultimate solution for transporting your bikes safely and effortlessly.
Unmatched Bike Protection: Our GlideAway Elite Four-Bike Carrier ensures your precious bikes are protected throughout your journey. Featuring an innovative design with padded cradles and adjustable straps, it securely holds your bikes in place, preventing scratches, dings, and damage. Say goodbye to worries about bike stability and focus on the thrill of the ride.
Effortless Loading and Unloading: No more heavy lifting or awkward maneuvers. The GlideAway Elite's unique gliding mechanism allows you to effortlessly load and unload your bikes with minimal effort. Simply glide the carrier away from your vehicle, providing convenient access. Say goodbye to straining your back and hello to hassle-free bike transportation.
Versatile and Adjustable: Designed to accommodate a variety of bike styles and sizes, the GlideAway Elite Four-Bike Carrier ensures a perfect fit for your cycling fleet. Its adjustable cradles and individual tie-downs allow you to secure bikes of different frames, whether it's mountain bikes, road bikes, or cruisers. Enjoy the flexibility to transport any combination of bikes hassle-free.
Robust and Reliable Construction: Crafted with premium materials and built to last, the GlideAway Elite Four-Bike Carrier offers exceptional durability and strength. Its sturdy steel construction and weather-resistant finish ensure longevity and reliability, even in challenging outdoor conditions. Trust in its robust design to keep your bikes secure mile after mile.
User-Friendly and Space-Saving: Designed for practicality and ease of use, the GlideAway Elite features a foldable design that allows for compact storage when not in use. It effortlessly folds away, making it convenient to store in your garage or trunk without taking up precious space. Maximize your storage options without sacrificing functionality.
Seamless Installation: We understand your time is valuable, and that's why we've designed the GlideAway Elite Four-Bike Carrier for quick and hassle-free installation. With its universal receiver hitch compatibility, it seamlessly fits most 1.25-inch and 2-inch receivers, allowing you to hit the road in no time. Spend less time assembling and more time enjoying your biking adventures.
Take your biking experiences to the next level with the Advantage GlideAway Elite Four-Bike Carrier. Order yours and enjoy the ultimate convenience, protection, and peace of mind during every journey.
The glideAWAY Elite fits both 2" and 1.25" receiver hitches.
Integrated bike/rack cable lock included
Hitch Lock included for extra security
Easily glides away from vehicle
Holds up to 4 standard bikes or only 2 E-bikes at a MAX capacity of 132 lbs
Do NOT install any hitch mounted bicycle or cargo carrier on a trailer or other towed vehicle.  Apply caution to mounting a carrier on some motorhomes with a long distance between the rear axle and the tail-end of the coach.  Bike and cargo carriers will increase the overall length of the vehicle.  Use greater caution when backing up.
Model #2070