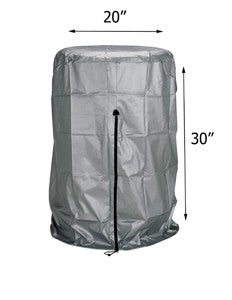 GarageMate TireHide
Save up to

0

%
Save %
Original price
$21.95
-
Original price
$29.95
You're smart enough to know that your vehicle needs different tires for different types of fun-snow tires for winter, high-performance tires for track days, off-road tires when you're really headed, you know, off-road. But keeping that second (or third) set of tires from cluttering up your man-cave garage when they're not attached to your vehicle? Well, that's the trick. TireHide is designed to quickly and easily slide over a stacked cylinder of four tires, and it does more than just hide your tires. It keeps your tires (and your killer plus-3 chromes) clean, dust-free and protected from errant garage spills like brake fluid, paint thinner or liquids from 12-ounce cans. It helps keep mice from building cozy nests in your Pirellis. And it makes the chore of swapping out your hoops that much easier because they'll be clean and shiny when removed--provided, of course, they were clean and shiny when they went in. Because while TireHide comes in three sizes, is made of heavy-duty 150D polyester and features a drawstring base for a form-fitting fit, it's not, technically, magic. It is, however, the perfect accessory for the well-groomed garage.
Available in three sizes:
Small: for up to 20-inch tires - Item #5390

Medium: for up to 25-inch tires - Item #5391

Large: for up to 30-inch tires - Item #5392


Sizing tip: Measure your wheels from edge-to-edge, with the measuring tape running through the center axle point. Choose a size equal to, or larger than, your tire diameter.
Model #5390(SM), 5391(MED), 5392(LRG)