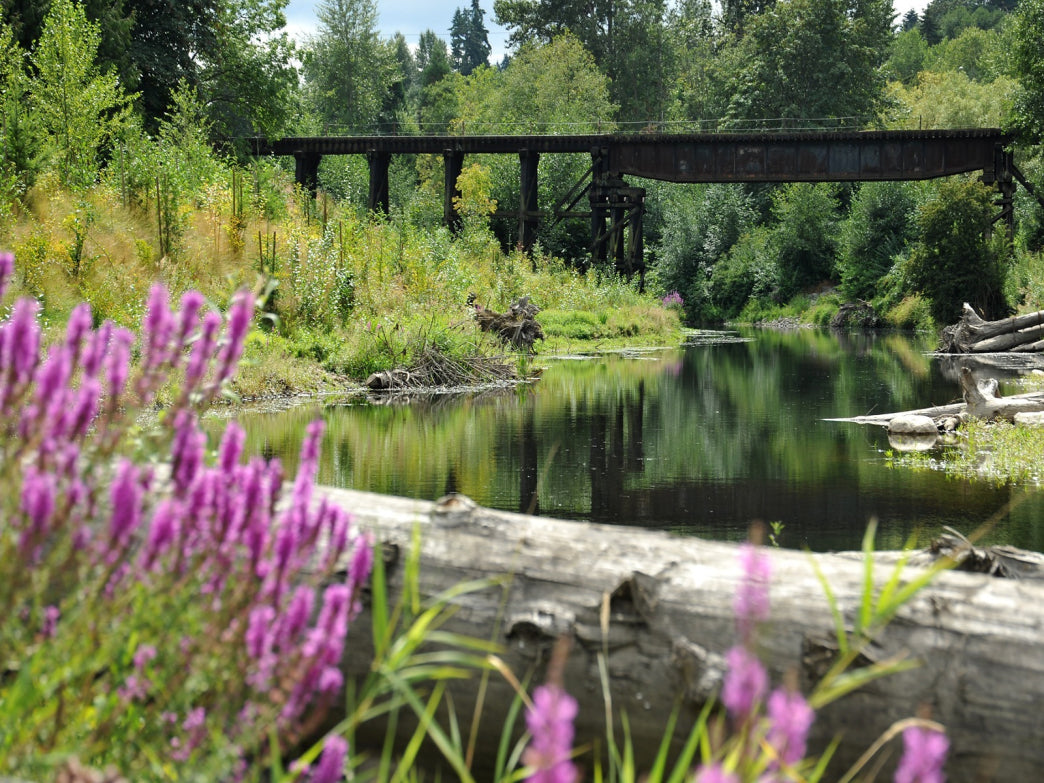 Scenic Cycling Trails in Washington State
The state of Washington offers a multitude of biking trails. We will cover some of the most scenic trails you can try out on your next cycling adventure.
The Sammamish River Trail
Starting in Bothell, the Sammamish River Trail runs for 11 miles and ends in Redmond's Marymoor Park. You will like this trail if you are looking for a nice, flat ride. The scenic route includes views of the Sammamish River, mountains, and farmland. As you near Woodinville, consider stopping by some of the wineries that are right off the trail.
Image Source: https://rootsrated.com/seattle-wa/cycling/sammamish-river-trail
Snohomish County Centennial Trail
Snohomish County Centennial Trail was constructed on abandoned rail beds, with a smooth pathway that slightly changes elevation as you continue on your journey. This 30-mile trail, extending from Snohomish to the Skagit County Line, features a 10-foot wide paved trail, that meanders through forests and farmland and offers plenty of picnic areas.
Image Source: https://wabikes.org/2014/05/30/centennial-trail/
Snoqualmie Valley Trail
The Snoqualmie Valley Trail was originally a spur line of the Chicago, Milwaukee, St. Paul, and Pacific Railroad in 1911. You can start the trail in McCormick Park in Duvall and ride 31.5 miles to Rattlesnake Lake in North Bend. A mountain bike is best suited for this crushed-gravel surface. The trail is known for its picturesque views of the forests in the Cascade foothills. Be sure to stop at the Three Forks Natural Area on your trip, which is a 200-acre area at the merge points of the north, south, and middle forks of the Snoqualmie River.
Image Source: https://savorsnoqualmievalley.org/itinerary/snoqualmie-valley-trail-snoqualmie-duvall/
Lopez Island
Lopez Island offers an abundance of trails around the entire island with scenic views and beautiful bays, making it a popular choice for cyclists. You can either bring your own bike or rent one upon your visit to the island.  Be sure to check out this "Cyclists Guide to Lopez Island" for maps and safety tips to help prepare you for your trip.
Image Source: http://quinnsplace.com/blog/2016/4/4/weekend-on-lopez-island
The South Lake Washington Loop
The South Lake Washington Loop runs south from Interstate 90, down the south end of Lake Washington, and concludes with a cross over the I-90 bridge. This ride offers a nice mix of urban and suburban views. You can access the loop via Aubrey Davis Park, which is located on Mercer Island. This entry point will take you along the I-90 bike trail over Mercer Island and onto the East Channel Bridge. Sights on your trip will include the Seattle Seahawks headquarters and various wildlife in Mercer Slough Nature Park.
Image Source: https://hike100bike1000.com/2016/07/07/south-lake-washington-loop/
Ready for your next cycling adventure? Our bike racks make loading and unloading your bikes seamless, so you can spend more time on the trail and less time fiddling with extra steps.